Category:Web frontend
From PhotoVoltaic Logger new generation
Logged in user
Master data
Analysis
Information about your installation and some statistics
Description of your equipment, if you like (Only visible, if description file exists)

Not logged in users
Can access only some modules.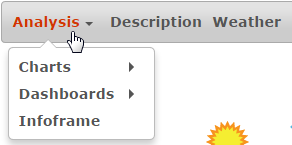 Mobile view
If a mobile user agent is detected, the mobile view will be shown.
For testing open http://your.momain.here/m to force mobile mode from any browser.
For Google Chrome you can also use
Pages in category "Web frontend"
The following 11 pages are in this category, out of 11 total.